Bluebirds Over Bend 2020: Success and Surprise!
If you build it, they will come. And did they ever. Western Bluebirds, House Wrens and Tree Swallows fledged young from nest boxes that were placed in a few of Bend's parks this year. It's official: the inaugural year of Bluebirds Over Bend project was a success!
Three native species utilized 8 of 14 boxes and demonstrated successful nesting experiences--yielding 9 Western Bluebirds, 12 Tree Swallows and 3 nests of House Wren chicks! The pair of Western Bluebirds in Pine Nursery Park even raised two broods—the first nest yielded 5 babes, and the second fledged four chicks!
What surprised me the most? My newfound love of House Wrens! While my mind was focused solely on attracting bluebirds, I was pleasantly surprised to make the acquaintance of a House Wren pair. Many a morning I sat entranced by the bubbling melody and ecstatic song of the male House Wren at Alpine Park.
It was there I discovered three boxes that showed signs of nest building--with each containing a few twigs. This is a mating strategy of the male House Wren, who begins the nest building process by placing several twigs in multiple boxes in hopes of enticing a female. Ultimately, a female chose "Mr. Right" and set about building a nest. The end result was a box stuffed to capacity with twigs—a classic House Wren nest in which chicks were raised and fledged.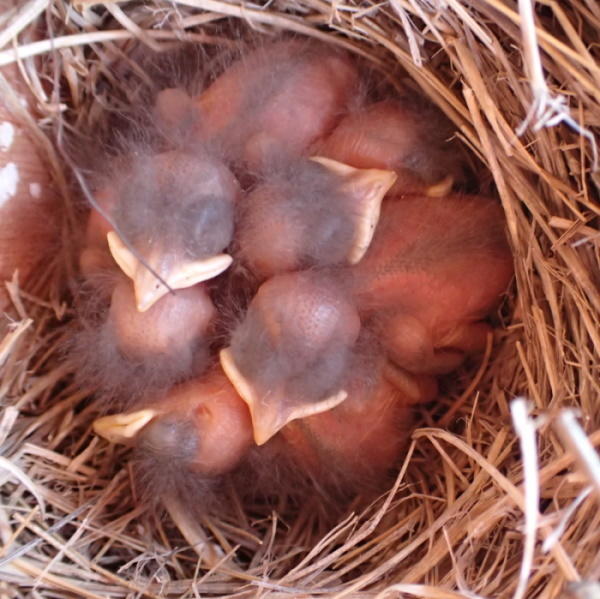 In a year that has been fraught with challenges, I'm thankful that we partnered with Bend Parks and Recreation and launched the Bluebirds Over Bend project. Nothing says hope for the future like a nest box. And you can quote me on that.
I close with some words from John Marzluff's book Subirdia (a great read, I might add).
"Considering ourselves as facilitators, not simply destroyers of biological diversity shines a new light on our place in the web of life…those of us who place nest boxes in our yards (and, I would add, our parks) are serenaded by wrens; and we benefit from the appetites of swallow, chickadee, bluebird, and flycatcher broods that are sated on insects." Marzluff concludes that the facilitative relationship with these birds obtained by providing habitat, food and water is a win-win—I wholeheartedly agree.
I look forward to nesting season 2021. Hopefully, then, with the pandemic behind us, you will be able to join me on the nest box trail and witness some of these wonders.
Have a bluebird day!
Carol