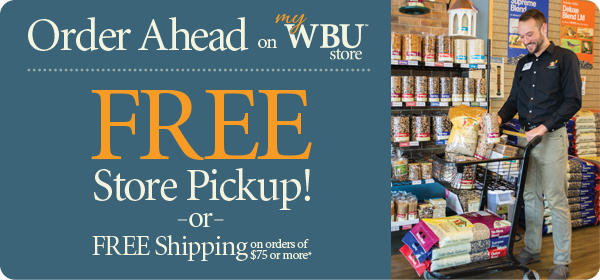 Staying Home? We Are Here to Help You Enjoy Your Birds!
Now, you can order your birds' favorite foods, bird feeders and more anytime and from anywhere with our online ordering option called MyWBU. When you order online, you'll get the same prices you'd get if shopping in our store and your order will be handled by the same local Bend WBU staff you already know and (we hope) love.
Whether you're staying home and need something delivered, or you want the convenience of having your order ready for curbside pickup, we've got you covered.

Creating your MyWBU account and ordering online is simple. If you've shopped in our store before and receive our emails, be sure to use the same email address so your online account will sync up with your in-store account. This ensures that you get your Daily Savings Club pricing and accrue points towards your next Bird Bucks Coupon (if a member).
Please note: The sign-up process is a "double opt-in." During the process, you will be sent an email with a link to complete the procedure. Wait for the email to come (sometimes it takes a few minutes). Follow the link, complete the registration and you will be all set to order online.
Ready to do it? Click on the orange "Shop Online" box above to get started. We'll take good care of you--as always. Give us a call at 541-617-8840 if you have any questions.
-------------------------------------------------------
Order ahead for free in-store pickup or get free shipping on orders over $75 that ship within 150 miles of the store. Orders of less than $75 or that ship to further destinations will incur a shipping charge shown at the time of checkout. Daily Savings Club points will accrue for online purchases when you register at MyWBU Store with the same email address associated with your DSC membership.