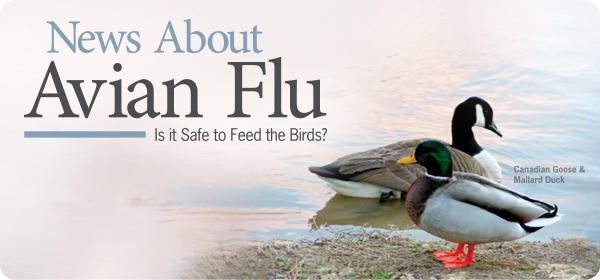 Avian Flu Has Been Detected in Six Backyard Poultry Flocks in Deschutes County
As of August 2, the Oregon Department of Agriculture has announced that avian influenza had been confirmed in 6 backyard poultry flocks in Deschutes County. The birds effected include chickens, ducks, geese, and Pea fowl. In addition to these occurrences in Deschutes County, avian influenza has also been found in some fowl and a very limited number of raptors in Linn, Lane, Polk, and Coos Counties in western Oregon. What does the presence of avian flu in Oregon mean for those of us who enjoy feeding birds in our backyards?
According to scientists and wildlife agency experts across US and Canada, there is NO need to take feeders down, because passerines – songbirds – do not appear to be susceptible to or transmit HPAI H5N1 (Highly Pathogenic Avian Flu). Avian influenza is a naturally-occurring virus especially prevalent among wild aquatic birds such as ducks, geese and shorebirds and has been shown to affect commercial and backyard poultry with high mortality. If you keep backyard poultry, you should remove your birdfeeders and take steps to limit your flock's exposure to wild birds.
The Oregon Department of Fish and Wildlife states "This strain of avian flu is not known to be a threat to songbirds, but keep your feeders clean and take them down if you see sick or dead birds near your feeder or in your neighborhood."
According to the Cornell University Wildlife Health Lab, "Passerines [song birds] do not seem susceptible to HPAI and are not thought to play a significant role in spreading this virus. We are not recommending removal of bird feeders at this point."
And the Institute for Infectious and Zoonotic Diseases at U Penn Vet School states, "According to the USDA, there is no evidence that birdfeeders, or the birds that frequent them, contribute to the spread of HPAI."
The US Department of Agriculture further states, "HPAI viruses and the illness they cause are not commonly found in wild birds…removing backyard feeders is not somethings USDA specifically recommends to prevent avian influenza unless you also take care of poultry." Also, the Government of Canada affirms, "The use of bird feeders is still safe but they should be removed from areas that are open to poultry and other domestic animals."
In addition, the US Centers for Disease Control and Prevention deems H5N1 to be of low human health risk.
To practice the hobby of bird feeding safely and to ensure the birds' overall health, it is always recommended you clean your bird feeders regularly with a solution of one part bleach and nine parts water.
Offering healthy food to our feathered friends is good for them, as long as it is done in a responsible manner. Studies have shown increased survival rates of birds with access to feeders during periods of harsh weather conditions. In addition, birds with access to supplemental food also have increased nesting success. So, keep your feeders full and all your backyard habitat components clean. Enjoy your birds and rest assured that you are helping them prosper.