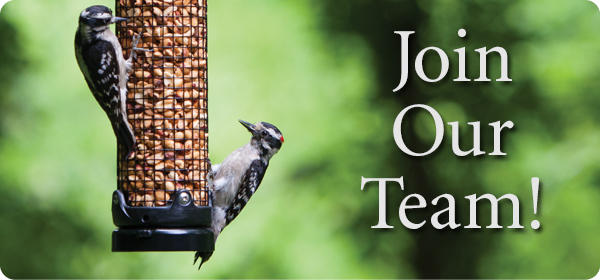 Are You Our Next Great Employee?
Immediate opening for outgoing, energetic sales associate with retail sales experience and great people skills to work 15-25 hours per week. Ultimate responsibility is to work with our sales team to create an unsurpassed customer experience. Our training program will teach a nature lover the bird, hobby, product, and sales knowledge needed to work with our great customers. Our service standards require the ability to carry 50lb. bags of seed and the effort needed to create an exceptional in-store experience.
Position considerations include:
- Prior retail experience.
- Friendly, outgoing disposition.
- Wild bird feeding experience is not required, but is a plus.
- Interest in nature and wildlife is a requirement.
- We are open 7 days a week and associates are expected to be available on weekends as well as weekdays.
- Holidays are often busy times, and sales associates are needed to work during these periods.
- Ability to lift and carry up to 50 lb. bags of birdseed.
- Ability to work in a fast paced setting and spend extended periods of time on ones feet.
We offer:
- The bird, hobby, product, and sales training needed to do the job well.
- A positive, pleasant working environment.
- A competitive wage.
- Employee discount.
- Flexible hours
Interested? Click here to download an Employment Application.
Please return completed application to Wild Birds Unlimited.