An Extra-Ordinary Bird: The Junco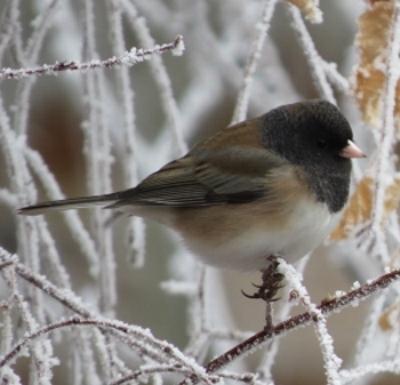 Seems I behaved like a junco lately. I disappeared for the summer. But much like the juncos I have returned. Writing from my new "nest" tucked into a small corner of NE Bend, I'm pleased to report those elegantly dressed sparrows have found me. They're outside my window now. And this brings me joy.
Read on to discover how this ordinary little bird captured my heart.
Juncos are a freewheeling, "grass-riding" bird. Much like a cowboy on a bucking bronco, juncos can wrestle a seed head to the ground. On local hikes I have witnessed juncos as they land atop a grass stem and, using their weight, they skootch downward along the stem until it bends to the ground at which point, they pin the seed head and pluck the tasty grains.
But you don't even have to leave your backyard to observe another remarkable behavior. Juncos dance. Really, they do. To forage at maximum efficiency, they have developed a move I call the Double-hop Scratch dance.
The "DH Scratch" consists of a rapid backward kick in which both feet are simultaneously scraped against the ground, loosening the top surface layer and exposing the layer beneath. Next, the feet are immediately brought forward with a second hop—which kicks up any potential hidden morsels. This hip-hop move is done in a fluid, rapid motion—a footwork routine perfected without a YouTube tutorial, mind you. If I had to depend on such a move for my next meal, I'd be in a world of hurt. Click here to watch "the dance."
And this little grass riding, hip-hop dancing bird was loved by the famed John James Audubon. Audubon noted the junco's winter arrival and aptly bestowed the nickname "Snow-bird" upon the feathered fellow:
"So gentle and tame does it become on the least approach of hard weather, that it forms, as it were, a companion to every child. Indeed, there is not an individual in the Union who does not know the little Snow-bird…"
I find that one of the great secrets to contentment in this oft overwhelming life is to learn to be awed by the ordinary. And for that, we can thank the extraordinary junco. I invite you to pull up a chair and watch.
Have a Bluebird Day,
Carol