Daily Savings Club Member Special:
Buy Mealworms; Get a Mealworm Feeder
FREE*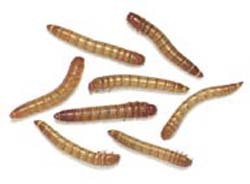 Mealworms are a super nesting season food! Many birds, even those that do not eat a lot of insects as a part of their regular diet, will seek insects during the nesting season. Not only do the adults benefit from the fat and protein they provide, but they will also feed energy-packed bugs to their nestlings and fledglings. Chickadees, Nuthatches, Robins, Woodpeckers, and even Bluebirds, Warblers, and Wrens will visit mealworm feeders!
While supplies last through the end of May, Daily Savings Club members of the Bend WBU will get a FREE Mealworm Feeder (pictured above) with the purchase of a 500 count cup of mealworms. Club members save 15% on all bird food, including the mealworms (which are only $10.19 with the club discount) and get a FREE feeder valued at $11.99!
Not a club member? Visit WBU, join the club, and take advantage of this limited time special.
*Offer valid for current WBU Bend Daily Savings Club members while supplies last through 5/31/15. One FREE feeder per club membership. We are not able to "hold" feeders, so those interested must visit the store to take advantage of this offer.