Carol's Corner - Nesting Black-billed Magpies
Meet the "Bad Boys" of the bird world – the Black-billed Magpies. They're loud. They swagger and strut. And yes, they even steal. That said, these bold opportunists are also highly intelligent. Scientists have recorded their ability to recognize their own reflection in mirrors (check out a video of Magpie self recognition)! Plus, Black-billed Magpies are strikingly beautiful with black and white plumage and sporting tail and wing feathers that flash an iridescent bronzy-green to purple.
I've enjoyed watching a pair of Black-billed Magpies build a nest and successfully raise a clutch of seven chicks for the past two months. I've seen their work ethic—spending endless hours constructing a huge, nearly three-foot domed nest, built one stick at a time over the course of a month. Inside that structure, the female added a mud bowl with grass lining. My son Isaac braved a climb up the spruce tree to capture this image.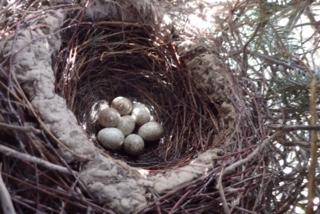 Just a few weeks later, we discovered the chicks alive and well—all jostling for position within the dome. Several young chicks were branched high up in the dome, with the others nestled in the cup nest below.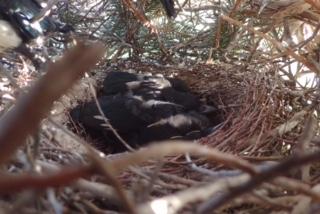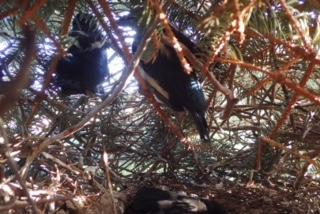 I've watched parents shuttle back and forth constantly with food for the brood. Now the young have fledged and are cleaning up the overflow seed beneath the feeders and rummaging in piles of brush for tasty morsels. Note the short tail on the fledgling below. The long, beautifully iridescent tail feathers will lengthen as the kids age.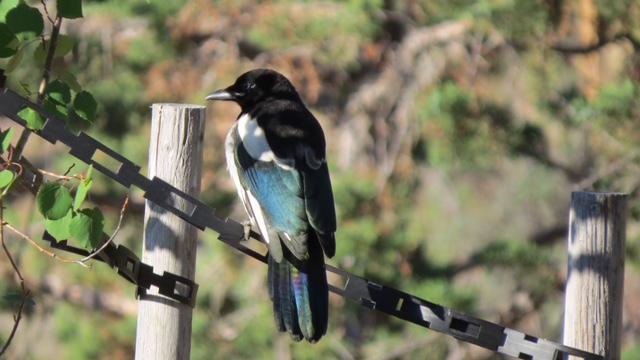 I'm not the only one fascinated by Magpies—in 1805, Lewis and Clark on their famous expedition were said to be "surprised with their tameness," noting that the Magpie would dash into their tent and steal a morsel of meat right off their plates. Struck by the curiosity of this bird, they even shipped four live Magpies back to President Jefferson in the white house!
And while some might maintain that the Magpie is a nuisance, consider Korea, where the Magpie is the unofficial national bird and believed to be a sign of prosperity and good fortune. Korean folklore says that if a Magpie squawks at your doorstep, you will receive an unexpected guest bringing good fortune. With my Magpie brood of seven, looks like I've got a lot of good things coming my way!
Have a Bluebird Day,
Carol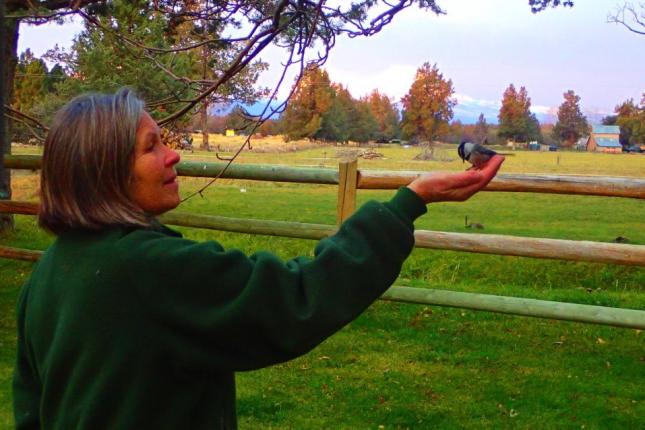 P.S.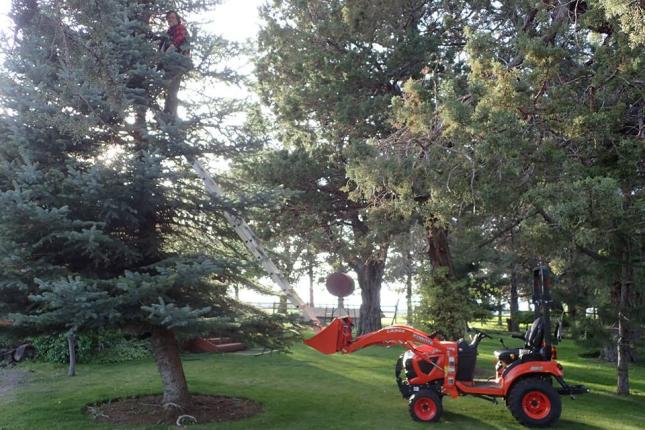 This is the "do not try this at home" method that was used by my husband Terry to obtain some of the nest photos. I do not recommend climbing on a ladder that is "secured" in the bucket of a tractor.