Carol's Corner - Birds, Bees and Butterflies, Oh My! Planting a Pollinator Garden
Variety is the spice of life—especially in the garden. By planting an array of flowers, you can provide a natural source of seed and nectar to supplement your backyard bird feeding station.
In addition, by providing pollinator habitat in your yard, you are helping to expand declining resources for insect pollinators, which pollinate more than 70 percent of flowering plants!
That's why this month I am planting a pollinator garden--a source of sustenance for the birds, bees and butterflies and a spot of beauty and tranquility for me. It's a win-win!
Because I am not the most patient person (I want my yard to look like a page from Birds & Blooms Magazine overnight), I've decided to tackle a small area of bare ground on a dry, exposed south-facing bank.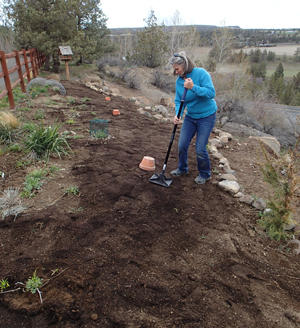 For somewhat instant results, I'm planting a variety of native Penstemons in gallon containers. With their brightly colored, nectar rich flowers they light up as a "Diner Open" sign to hummingbirds.
And who can resist a little Oregon Sunshine (Eriophyllum lanatum)? This native plant sports cheerful yellow flowers that appeal to many species of solitary bees as well as butterflies. I will supplement this meager planting with an abundance of wildflower seeds—designated "pollinator pleasers". These seeds include a blend of annual and perennial favorites: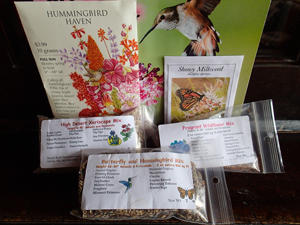 My goal is to provide a continuous bloom "buffet" from spring until fall. By planting a mix of plants with flowers of various color, shape and size, I am setting a diverse "dinner table," packed with life sustaining sugar (nectar) and protein (pollen).
In addition, in autumn many birds will flock to the seeds of flowers. Last fall goldfinches dined on the standing stalks of coneflowers and blanket flowers. If you can resist the urge to tidy up in the fall by cutting stalks and raking leaves, you will endear yourself to the birds who will visit your garden over the fall and into winter nibbling on seeds left behind. Not to mention this natural nook will provide a place for native bees to overwinter.
I can't wait to see who dines in this year's "five-star" pollinator garden.
What flowers are in your garden? Would you like more information on creating pollinator habitat? Let's talk on your next visit to WBU!
Nest box update: While no bluebirds have moved in yet, I am hopeful. I've added some juicy mealworm treats to entice them. Stay tuned.
Have a Bluebird Day,
~Carol~