Carol's Corner - Preparing for Spring Nesting
In every walk with nature one receives far more than he seeks. John Muir
Could Muir's wisdom apply to a walk in your backyard? Most definitely. While providing habitat for wildlife has obvious benefits for the birds and the bees (and other creatures), I've discovered that I, too, am rewarded. Over the years, I've found my backyard to be my place of refuge.
Last fall my husband and I moved to a small home in Tumalo on seven acres. The potential for enhanced wildlife habitat there is endless. I can't wait to share the journey with you.
Since nesting season will soon be upon us, my first order of business is nest boxes. In our area, we have several species of cavity nesting birds (a cavity being a hole in a tree)—such as bluebirds, swallows, chickadees, nuthatches, wrens and flickers. Often times, with development on the rise, valuable nesting habitat such as standing dead trees (snags) have been removed. By providing nest boxes, we can offer a much needed place for these cavity nesting birds to raise young.
The first box I will place is a bluebird box. Locally we have both Western Bluebirds and Mountain Bluebirds—and they prefer open spaces with low groundcover. I know just the spot to begin—on a juniper tree near the edge of the pasture.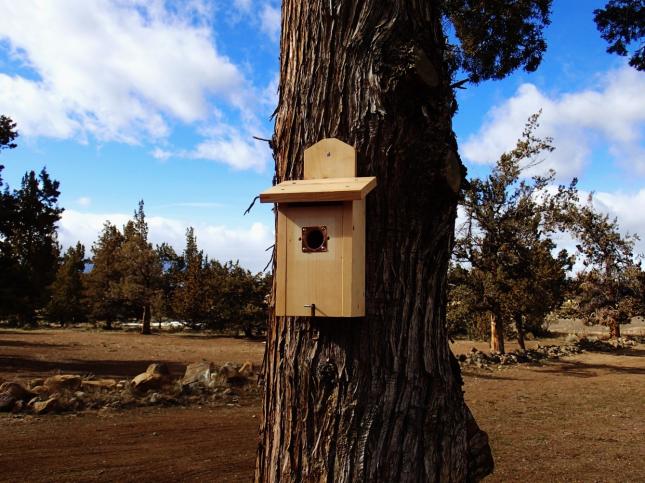 This box is just to their liking. It has the appropriate entrance hole size (1 9/16") with good ventilation, drainage, and no perches (which invite predators). I chose a northeast orientation, for the warmth of the morning sun and for protection from direct afternoon sun and prevailing winds —although generally birds aren't really set on any exact compass location.
Bluebirds will begin their real estate search soon! I can't wait to see if a pair chooses this location to raise a family. I will keep you posted. In the meantime, please stop in and say "Hi" at WBU. I'd love to hear what wildlife adventures are happening in your yard or answer any questions about creating a refuge—for you and your wildlife--in your own backyard.
Have a Bluebird Day,
~Carol~